BELOW ARE SOME STREET RACING KEY TERMS:


BOOST- The artificial pressure induced by increasing an engines compression ratio. Think of an engine as a fireplace.the more fuel you can stuff into it, the more energy will be released when it burns. If the fireplace (engine) is only so big, the only way to get more energy out of it is to stuff it full of more of the stuff that burns. This is done by turbo charging, supercharging or by the chemical reactions produced from using products like nitrous oxide.


BURNOUT- The process of spinning tires due to overpowering the traction abilities of the tire with sheer engine power.


CHRISTMAS TREE- The series of lights mounted to a pole that signal in sequence to start a drag race.

FLAGGER- A person who takes the place of a Christmas tree by starting a race with hand gestures, rather than signal lights.

DRIFTING- The art of sliding ones car in a controlled half-sideways position through a tight turn. It takes a balance of braking and throttle control to achieve the perfect drift.

HOLESHOT- A term used when a competitor leaves the line with a good advantage.

RUN NINES- To run a quarter mile in less than ten seconds. A TEN-SECOND car is one that runs nines.

SPOON ENGINE- A Japanese made motor designed to give V8 power from 4 cylinder motor. Made to be lightwheight and small for the imported sport-compact cars.

STAND ALONE FUEL MANAGEMENT SYSTEM- A computer that replaces the car factory computerit allows the cars owner to program his/her own perimeters for maximum horsepower and to chart the effectiveness of changes. On engines with turbots or nitrous, such systems allow the maximum power of the engine to be realized by allowing for more adjustability.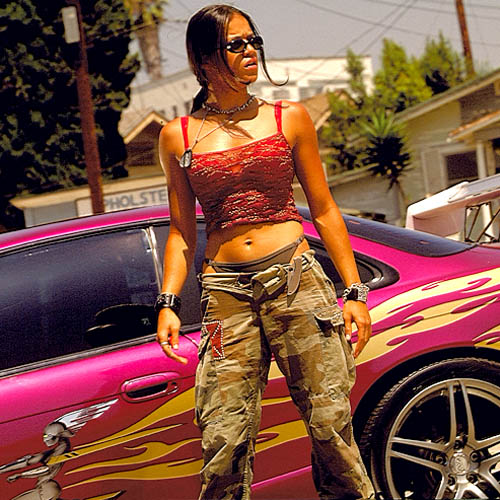 Letty aka: Michelle Rodriguez
standing in front of her
purple 240SX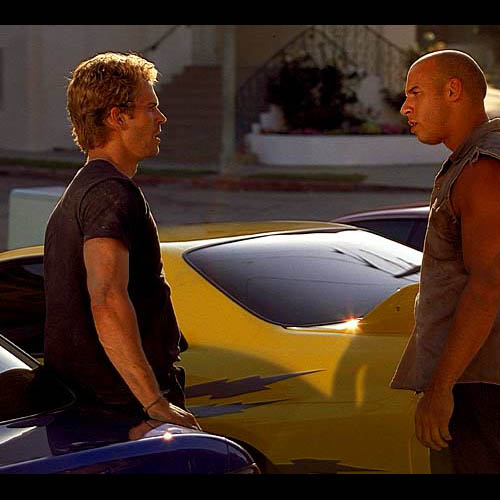 Dom and Brian standing over Leons Yellow Skyline.
look for more info on the Skyline on the facts page.